The Best Tool for Your AWS Elemental Live Encoders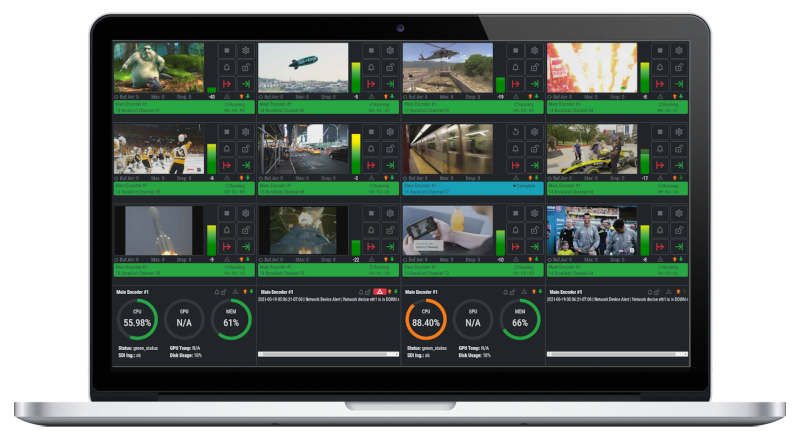 Monitor and Control All Your Live Transmissions From a Single Interface
Easily view the status of your transmissions and encoders. Get access to features not available in the original interface of your encoders.
Get a lot more out of your AWS Elemental Live encoder

The BoraGrid Server application connects to your encoders through a local network, over the Internet, or both. After the connection, BoraGrid periodically requests the status of the encoders and their transmissions.
Users access BoraGrid Server through their browsers. Access can be made from the computer where BoraGrid Server is installed, through the local network or over the internet.
Start Your Free 30-days Pro Plan trial
Select your operational system and a download link will be send to your email.
* Extra Modules: Clock, Text Editor and Video Player Embedder. ** Events Importing: Automatically creates new Event Controller modules from the list of selected events of a given encoder. *** Inputs Importing:  Automatically appends or replaces the list of inputs in the general control panel with the inputs for a selected event.
Most frequent questions and answers
No, BoraGrid is specifically designed to work with AWS Elemental Live encoders.
From your browser, access the address given in the BoraGrid Server interface. For example: 192.168.0.24:3068.
Check the following:
Is BGS running and with the license active?
Are your computer and BGS on the same network?
Make sure that on the firewall of the computer where BoraGrid Server is installed, the access port is enabled. The default port is 3068, which can be changed by clicking on the "Settings" button on the BGS interface.
If the access is via internet, check with your IT team if the security rules in place (VPN, proxy, etc) allow this type of access.
There is no limit to the number of concurrent users, but it is important to note that the CPU consumption of the encoders increases proportionally to the number of connections.
If the CPU consumption of your encoders approaches 100%, consider restricting the number of users.
Yes, you can access the operation interface through a browser running on the same computer where BoraGrid Server is installed.
No. Conductor has features not available in BoraGrid, such as switching between encoders in case of critical failure.
Most of BoraGrid's features are also not available in Conductor.